WELCOME TO COLLEGEPLACE UPTOWN
ISU OFF CAMPUS HOUSING
WELCOME TO COLLEGEPLACE UPTOWN
Our ISU college apartments give students the best of both worlds: a fantastic social scene and everything you'll need to succeed academically. We put you at the epicenter of both ISU and the shops, bars, and restaurants of Uptown Normal. Make the most of your college experience with several fun amenities, outstanding on-site staff, and unbeatable location!
This page will give you space to explore some of the main features our ISU student apartments offer such as floor plans, resident reviews, amenities, photo gallery, and location. The buttons below each section will take you to a page with more information on the feature. When you're ready to make CollegePlace Uptown your new home click on "Apply Now" below!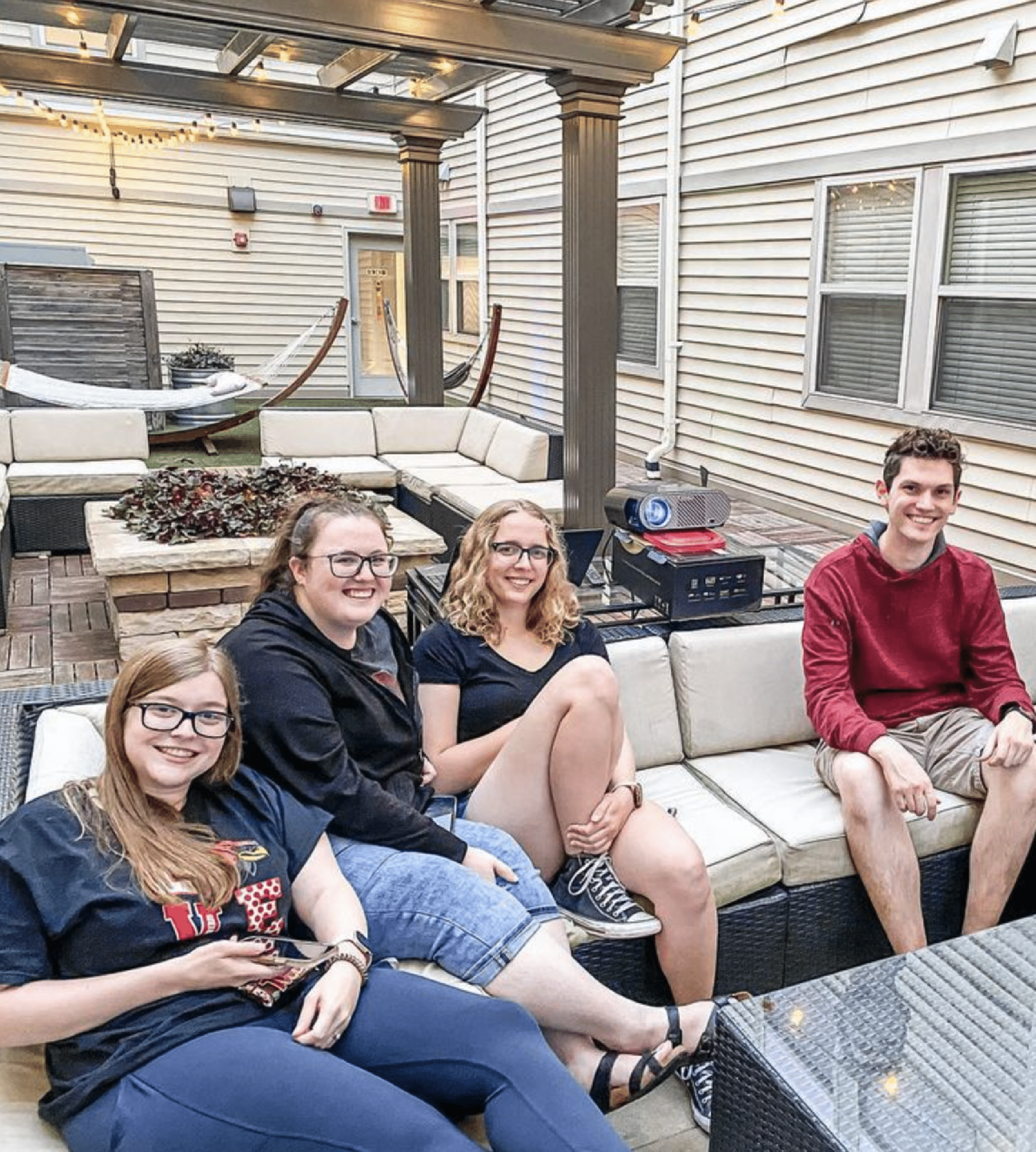 Welcome to CollegePlace Uptown – the most comfortable student housing complex in Normal, IL
Explore Our Floor Plans
We want our student apartments in Normal to fit your lifestyle and budget! Choose between a 1 or 2-bedroom apartment – both with high speed internet and an in-unit washer and dryer. Each layout offers a standard or upgraded style, so you can pick what best suits your needs. Our standard style units offer a cozy atmosphere with carpet throughout the bedrooms and living room and a chef's kitchen equipped with an oven, stove, microwave, refrigerator, and dishwasher! If you're looking for a more modern look, the upgraded units are perfect for you! They include polished wood flooring in the living room and a sleek kitchen complete with all stainless-steel appliances ready for you to enjoy. On the other hand, if you're someone who values the outdoors, then check out our one-bedroom luxury apartments with a balcony perfect for catching some fresh air. While fully furnished, the apartments keep a nice neutral tone so you can put your own personal spin on it with rugs, throw pillows, pictures, and other décor!
If you have a friend you're wanting to live with let us know! We'll do whatever we can to accommodate your request! Not sure who to room with? No worries! We offer a roommate matching option that will pair you with someone based on questions in our application. See our layouts for yourself by clicking below!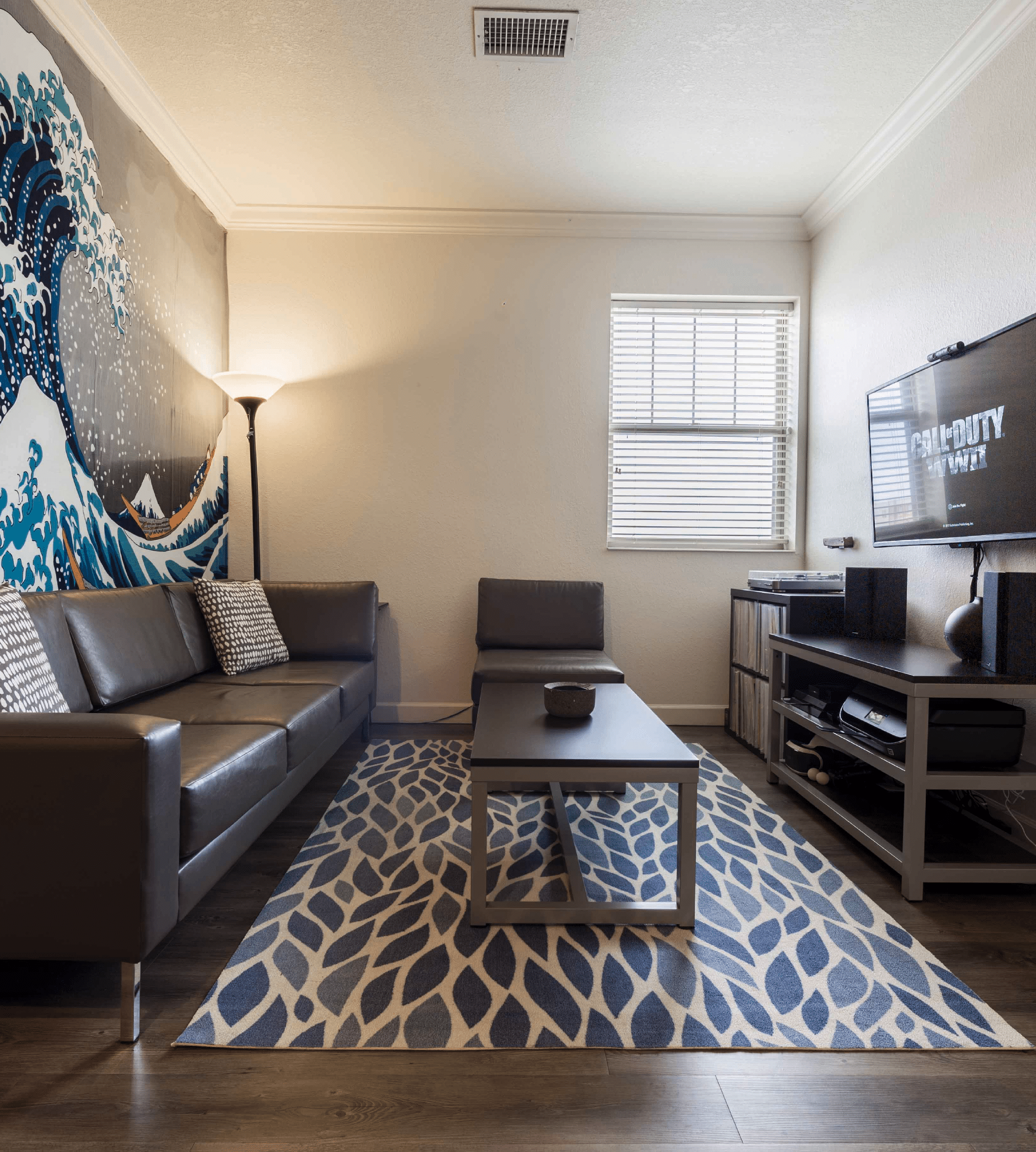 Check Out Our Resident Reviews
If you're curious what other residents are saying about our ISU student housing, check out a few of our reviews below!
As a student, I couldn't have chosen a more perfect spot to live. They not only offer better amenities and comparative prices, but have their residents best interests at hand.

Megan J.
I've been living here for a couple months and I absolutely love it! The staff is so friendly and they always make me feel like home.

Kamila K.
As a parent, it's comforting to know that my daughter is in good hands at CPU. Super helpful maintenance staff, friendly office staff, and all-around accommodating people.

Connie J.
Lived here for a couple years. I love that we're in the heart of Normal! The residents are so friendly and honestly would 100% live here again.

Rocky R.
So far, I have had a great experience here. If I could give 6 stars instead of just 5, I would.

Justin K.
Apply Now
Check Out Our Exceptional Amenities
If you thought the apartments at CollegePlace were nice, just wait till you see our amenities! Never go far for a good workout because we have not one but TWO fitness centers available for use. Our fitness centers have all the weightlifting equipment and cardio machines you'll need to get your blood pumping! More into yoga or workout videos? Check out our aerobics room complete with jump ropes, medicine balls, resistance bands, and yoga balls for an all body work out.
Having trouble finding a quiet place to study or work on a group project? The study lounge has wifi, desks, group tables, and comfortable chairs so you can have all the tools to succeed in your classes! Not to mention, it's only a short walk down the hall so how can you beat that?
After a long day of studying, treat yourself to some fun in one of our THREE courtyards. You can kick back in a hammock or tan in our quieter courtyards or enjoy some friendly competition in our gaming courtyard with a ping pong table and two sets of bags.
Click on our full list of amenities below to find out why ISU students are drawn to our one-of-a-kind student housing in Normal, IL.
Photo Gallery/Virtual Tour Sneak Peek
See more of our incredible amenities by taking a virtual tour. You can view all we have to offer from the comfort of your couch!
Located in the Heart of Normal
Do you find it hard to get out of bed in the morning and are always rushing to get to class on time? At CollegePlace you'll have the luxury of sleeping in since we're only a 5 minute walk from your front door to the center of ISU. You may even find you have time to eat breakfast on your way out the door! We are located directly across the street from the Science Building, diagonal from the Watterson dining hall, and a stone's throw from the Bone. You'll never have to worry about being late to class again!
If campus is not where you are looking to spend your time, just head in the opposite direction to Uptown Normal. There you'll find excellent restaurants, grocery shopping, bars, coffee shops, and boutiques all within a few minutes' walk. Wanting to get out of town? CollegePlace is just a 4-minute stroll from the train station where you can catch an Amtrak to take you anywhere you want to go!
No matter your lifestyle, CollegePlace is ideally stationed unlike any of the other ISU off campus housing. Both ISU's campus and Uptown Normal are right at your fingertips waiting to be explored! Get directions below!